American Beauty Tools & RoHS
Get the lead out!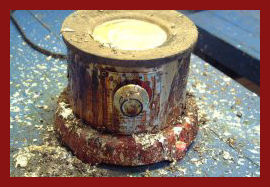 Worried that RoHS compliance equates to massive costs? Don't be...even if your pot looks like this one and contains a lead-based solder, you don't have to toss it out. Save money by sending your existing solder pots into our repair service for a $100 credit towards a brand new solder pot..
Call our customer service today to make arrangements.
Shocked by what some manufacturer's are asking for special RoHS compliant solder pots? Well...here is the real deal. Even though it is close to impossible to clean out your existing solder pot and ensure zero contamination of your new lead free solder bath, it is NOT necessary to blow the bank on a specialized solder pot. American Beauty industrial solder pots incorporate a gray cast iron crucible that is highly resistive to the solvent powers of tin. Hence, during standard operating conditions (100-150 degrees above the liquid temperature of the solder alloy) there is no measurable difference between your American Beauty solder pot operating with regular tin/lead solder or lead free solder.
---
And you don't believe in luck???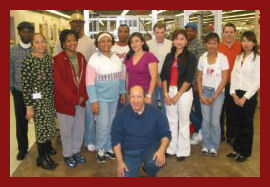 As the sleepless nights mounted and the overall production efficiency fell to below 50% of required goals, Arthur and his team at ITT began clutching at straws. RoHS legislation had required they switch to a new PB free solder with a substantially higher melt temperature than normal. At its best, their $20,000 automated soldering system would run at 80% efficiency for barely two hours and then breakdown, requiring extensive servicing and downtime.
Desperation found members of Arthur's team rooting through a shipment of surplus equipment from a sister plant. Arthur recognized an old American Beauty Resistance soldering system and that triggered a phone call to our Toll Free Technical Support. Arthur described his predicament with Virgil Brooks, our Technical Support Manager, and immediately could tell that he was onto something good. Together, Virgil and Arthur formulated a plan to integrate our 1,100 Watt Power Unit, Precision Timer Module with ITT's automated machinery and a new customized soldering head.
Today, a conversation with Arthur will reveal a man who no longer worries about his soldering operation. "Today, we are running at close to 100% efficiency with the help of American Beauty soldering tools. We are now able to refine other inefficiencies in our processes that we never knew existed. American Beauty had the perfect answer for the bottlenecks created for ITT by the new lead-free initiative.
2000-2023 American Beauty Tools