American Beauty Tools & Stained Glass
A Tradition of Excellence
Just one of the beautiful windows created over the years by the Mazza Family.
The Mazza family has been creating works of art for over one hundred years. Ron's grandfather was a first generation American who came to this country and quickly established himself as a gifted stained glass craftsman. Establishing the family company in 1901, the Mazza's have kept an emphasis on maintaining old world charm in all of their pieces.
"Since my great grandfather first started working with electric soldering irons, my family has only used American Beauty soldering irons. I like to use the 300 Watt soldering iron (Model 3178) that my father purchased over 65 years ago, to solder reinforcement bars for church windows. The 150 Watt soldering iron (Model 3138-150) is my favorite for the more intricate work I perform that calls for smaller solder joints.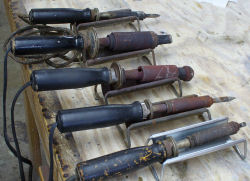 Not pretty but effective!
"At times its overwhelming," confesses Ron, "when I reflect upon all the care that has gone into every piece of glass over the years."
At American Beauty, we look at our soldering tools in much the same light as Ron does his family's work. While we may not be gifted artisans and our tools will never be mistaken for beautiful pieces of art, making quality tools is our craft...and we take it very seriously.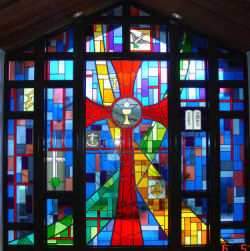 For over 100 years the Mazza family has passed down their gift for stainded glass work...and the irons they use!
And Ron's message to American Beauty..."You can let your employees know that they should be very proud to be a part of a company like American Beauty. Its a rare company that produces a product that can be handed down through four generations and still works like it was made yesterday."
---
Ensure Top Performance from your Iron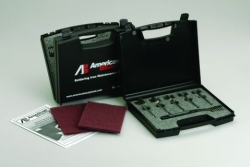 Your mother was right when she told you to clean-up after yourself! The number one cause of performance degradation for your soldering iron is poor tip maintenance. Now its easy to prevent heat loss with our new Maintenance Kits (
Model CS-38Kit
)
Our new line of maintenance kits allows you to quickly and thoroughly clean the inside wall of your soldering iron and the shank of your soldering tip. And for a limited time, we are virtually selling this kit at cost*.
Why you may ask? Why would any logical company come out with a new product and make almost no money selling it?
Well, the truth is that we are tired of explaining to customers that a little maintenance goes a long way and simply being ignored. We figured...if we put the kit together for you with easy to follow instructions and specific sizes....well now you'd simply be left with no excuse to not maintain your soldering irons! *With the purchase of any new iron, we will sell you that iron's specific maintenance kit for only $9.95. That's right...less than ten bucks! You know what this means...you better come up with a better story the next time you attempt to explain to us how your soldering iron tip became a permanent fixture in your soldering iron.